Rushcliffe will always take the toughest action possible on fly-tippers
Last updated: 22/9/2023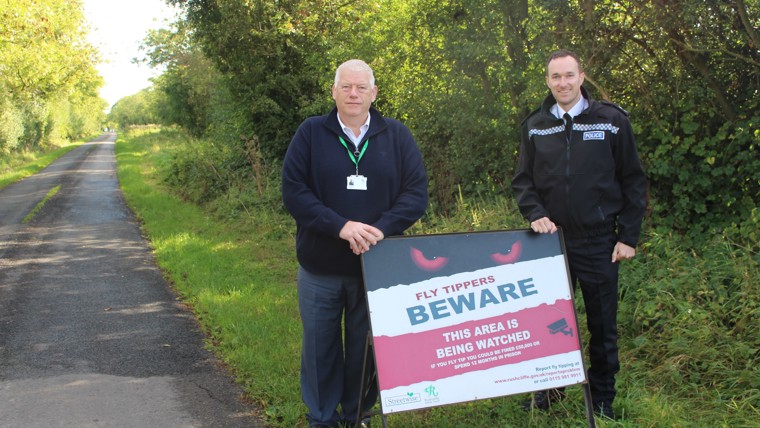 The toughest action will always be taken on fly-tippers who blight our beautiful countryside and rural areas.
That's the message from Rushcliffe Borough Council and Nottinghamshire Police, as part of Rural Crime Week, who are reminding those who don't follow the rules, prosecutions and fines will always follow where evidence leads back to those who have illegally dumped items.
The Borough recently topped Department for Environment, Food and Rural Affairs (Defra)  figures for the East Midlands on fixed penalty notices for those who litter or fly-tip, backed by the Police's wider support.
Rushcliffe Borough Council's Cabinet Portfolio Holder for Environment and Safety Cllr Rob Inglis said: "We will not tolerate any form of fly-tipping which blights our beautiful countryside, towns and villages in Rushcliffe.
"We take the toughest action possible on fly-tippers in line with our priority with the environment and will fine or prosecute those who choose to pollute our communities when we find evidence.
"We have previously seized and destroyed vehicles used in fly-tips too, we have a zero-tolerance approach no matter how small the amount may be.
"Our partnership with Nottinghamshire Police and WISE in recent years has been effective and the figures speak for themselves with the most fixed penalty notices for litter and fly-tipping in the East Midlands.
"If you're a householder, remember to always check who you employ to dispose of your waste from your home or business or you could also face a potential penalty if it is linked with a fly-tipping case.
"You can check whether a waste carrier is registered online at Environment Agency website bit.ly/3sIgmil or call 03708 506 506."
Inspector Tim Cuthbert, neighbourhood policing inspector for Rushcliffe, said: "We are blessed in Rushcliffe with some wonderful countryside and we won't tolerate it being blighted by fly-tipping.
"Fly-tipping is not only an eyesore to the public but can also be hazardous and dangerous. It also incurs a huge cost to farmers and landowners who need to get rid of the waste in an environmentally sound way.
"It is good news that Rushcliffe is leading the way regionally on fixed penalty notices but we are not complacent. We will continue to work with the council and other partners to ensure action is taken on those who flout the rules."