Neighbourhood police have helped cut shoplifting offences by almost half after joining forces with Council teams and retailers.
Last updated: 23/6/2023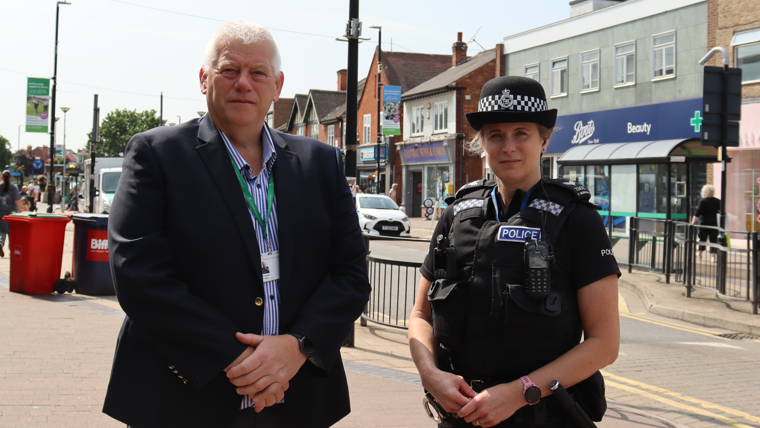 Officers from the Rushcliffe neighbourhood policing team developed a new patrol plan to target resources at the problem in West Bridgford, which has allowed them to arrest several prolific offenders as well as support shop staff.
The initiative ensures officers are patrolling key locations in the town at the right times to provide a visible presence and react quickly to offences taking place.
The plan has helped to achieve a sharp fall in offending – with new figures revealing the number of reported shoplifting offences dropped by 48 per cent in May.
Sergeant Sarah Merrall, of the neighbourhood policing team, said: "Shoplifting is one of our key priorities as a policing team so we are always keen to look at fresh solutions to the problem.
"The changes we made to the patrol plan for West Bridgford aim to ensure officers are where they need to be, when they need to be there.
"It is also about using all the tools and technology at our disposal. Early communication via the Shop Watch radio scheme has been crucial in allowing us to arrest and charge several persistent offenders over recent weeks.
"We know a disproportionate amount of shoplifting is committed by a relatively small number of prolific criminals. Being in the right place at the right time, and making use of communication channels with retailers is key to catching them.
"However, it is not just about catching offenders and arresting them. The changes we have implemented are also allowing us to get a further step ahead by preventing offending in the first place.
"We are using both our time and resources smartly to engage with shop staff and provide them with the reassurance, advice, and skills they need to assist us in reducing shoplifting."
The policing team is also making use of criminal behaviour orders to deter and prevent future offending.
Neighbourhood officers are applying to the courts to put orders in place for the most persistent shoplifters – banning them from the town centre and allowing swift action to be taken on any offenders who breach their conditions.
Inspector Rob Lawton, neighbourhood policing inspector for Rushcliffe, says partnership working has been key to the recent success.
"None of this could have been achieved without teamwork with our partners, particularly Rushcliffe Borough Council's Safer Streets wardens and the Shop Watch team," he said.
"West Bridgford is a vibrant community with a host of independent retailers. We know the impact shoplifting has on our local stores so are always looking at new ways to prevent it.
"It is really pleasing that this new joined-up approach to the problem is already yielding such promising results. I'd like to thank my team for their proactive work to develop a new plan and their hard work and dedication to putting it in place on the ground.
"Our partners are working hard to ensure the town is a pleasant place to live, work and spend money. We will do everything we can to help them."
Rushcliffe Borough Council's cabinet portfolio holder for environment and safety, Councillor Rob Inglis, said: "This is excellent news with such a huge crime reduction in shop thefts. 
"The focus will continue, enhanced by the recent Safer Streets funding for the provision of CCTV, shop link radios, and the street patrols which has seen offenders being arrested and convicted at court. 
"This news sends out a strong deterrent message, so congratulations to the Rushcliffe neighbourhood policing team for their great vision and work in tackling the problem."