Get fun kids' prizes with West Bridgford Way's Spring Trail!
Last updated: 19/4/2023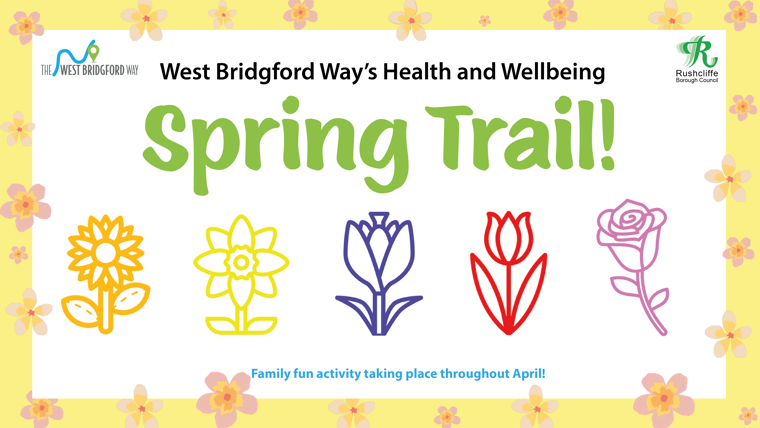 Shoppers in West Bridgford can discover hidden health and wellbeing gems, uncover seasonal special offers and promotions and win kids' prizes with the West Bridgford Way Spring Trail!
There are 18 businesses across the town's retailers, service and hospitality venues with spring flowers displayed on their window, door or outdoor sign for residents to find!
Trail participants should look out for a daffodil, tulip, crocus, rose and sunflower in either red, yellow, orange, purple or pink, located at the participating businesses.
They include a QR code at each location that links to information about that business – including the great special offers and promotions.

Shoppers simply need to find eight of the 18 businesses, write down what type and colour of flower they're displaying to win a small children's prize until April 30.
Trail sheets can be collected and returned to The Fruit Basket on Gordon Road, or Slades Florist & Greengrocer on Melton Road, to claim a prize.
The participating stores are:
Pavilion Road, Musters Road and Henry Road
Bubble & Bean, with Step Up Rehab
Awaken Hypnotherapy
Rehab Beauty
Bridgford Road
The Fitness Collective
The Parlour
Just Journey
Gordon Road
Rainbows and Lemondrops
The Fruit Basket
Vellum Tattoo
Individuals Hair
Hair Tech & Co
Dr Andrea Brearley 
West Bridgford Pet Parlour
Abbey Road
Melton Road
Slades Florist & Greengrocer
Arnold Hearing Specialists
Moore Osteopathy
Soothe Skincare & Spa


West Bridgford Way is a place-based marketing initiative from Rushcliffe Borough Council.
For more information email econdev@rushcliffe.gov.uk