Explore free nature-based groups and activities with latest edition of Rushcliffe Big Green Book
Last updated: 6/10/2023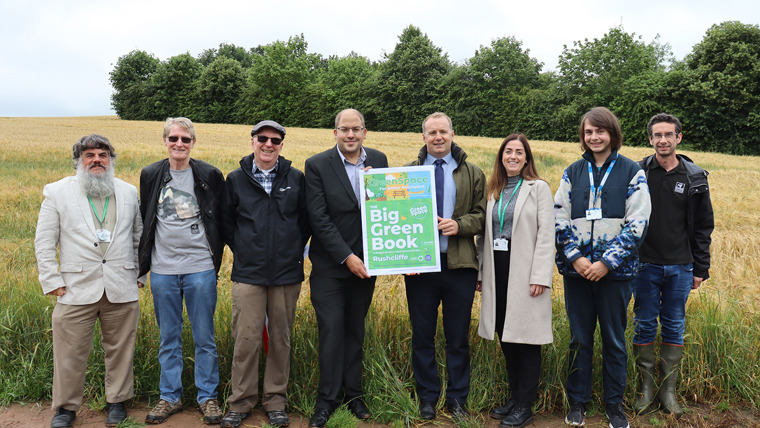 The second edition of a directory that details nature-based activity providers and green spaces in Rushcliffe is now available to encourage more people to explore local nature and improve their mental and physical health.
The Rushcliffe Big Green Book gives a wealth of local contacts and information to help groups and individuals find great new health and wellbeing opportunities on their doorstep in the Borough.
View the latest version on the Rushcliffe Primary Care Network website.
The updated edition now includes even more providers, local walks including the 'Rushcliffe 100' walk challenge and a map of local green spaces and nature reserves.
There is also new information on the benefits of physical activity for adults and older adults.
Other features in the book include a range of activities such as cycling and exercise groups, coffee meetups, wildlife and environmental links, gardening, allotment, food sharing and leisure opportunities at local waterways, parks and open spaces.
The concept is designed to be used by social prescribers and healthcare workers who want to find activities for their patients, as well as individuals who are looking for local community groups to get involved in.
The book is delivered in partnership with Rushcliffe Borough Council, Rushcliffe Primary Care Network and the Nottingham Community and Voluntary Service (NCVS) and sets out local activities and groups across the Borough to help people choose an activity that is local and easily accessible to them.
It has been developed as part of the GreenSpace Green Social Prescribing Project that focuses on improving people's mental health, in line with the national Green Social Prescribing initiative.
Green Social Prescribing provides a way of connecting people to nature-based activities and green groups, projects and schemes in their local community for support with health and wellbeing.

Rushcliffe Borough Council's Cabinet Portfolio Holder for Transformation, Leisure and Wellbeing Cllr Jonathan Wheeler said: "The first Rushcliffe Green Book has been a great success and I'm pleased the latest edition now includes even more useful resources and information to help people look after themselves, meet new people and connect with nature.
"It's a fantastic free resource for social prescribers, healthcare workers and individuals who are looking for friendly groups to join and take part in outdoor activities that support mental health and wellbeing.
"The book also supports Rushcliffe working towards becoming a Dementia Friendly Borough by encouraging providers to obtain the 'Dementia Friendly' badge.
"This helps to raise awareness of dementia and helps to reduce barriers for people in local communities living with dementia.
"A special thanks to NCVS who are leading the GreenSpace programme and for all their hard work on the Rushcliffe Big Green Book."
Rushcliffe Social Prescribing Team Lead Morgan Sharpe added: "We've received positive feedback from social prescribers who have utilised the Big Green Book and discovered new groups and activities to get involved in.
"We are continuing to share the latest edition far and wide to enable people to connect with nature and boost their health and wellbeing."
For any questions on the Big Green Book, partnership work or sponsor opportunities, email rushcliffebiggreenbook@gmail.com