Rushcliffe Mayor abseils off Viaduct to raise funds for air ambulance service and local charity
Last updated: 19/5/2023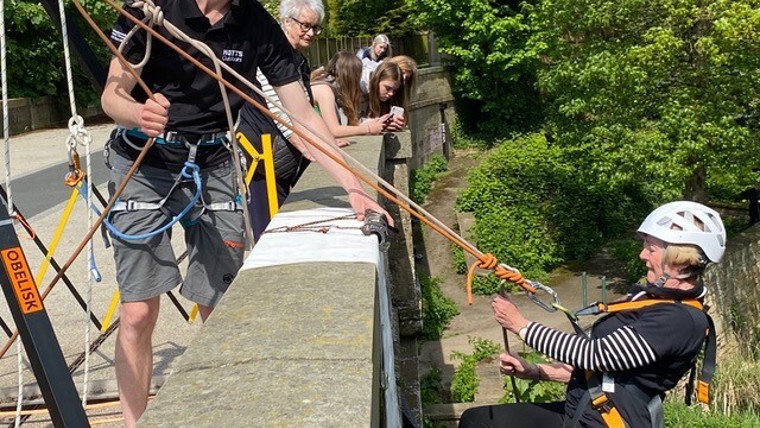 Mayor of Rushcliffe Cllr Tina Combellack abseiled down a local landmark on Sunday May 14 as a thank you to an air ambulance service and other organisations whose heroics saved her in her time of need.
She was left with serious injuries and six broken ribs after a horse she was riding suddenly threw her from the saddle, leaving her in immense pain.
The incident in 2003 has left her forever grateful to Notts and Lincs Air Ambulance for their help when they and colleagues speedily flew her to hospital for treatment to recover from the ordeal.
The abseil challenge took place at Kings Mill Viaduct in Mansfield to show her support and raise awareness for the service and her other chosen charity, the Grantham Canal Water Restoration Group, which works to preserve and protect the local waterway.
Anyone can still support the challenge and donate to the charities by visiting the Mayor's JustGiving page.
The Mayor said: "I can't tell how indebted I am to the Air Ambulance, I will be forever grateful for the essential service they provide, as without them I could have been in a great deal more danger.
"On the day of the abseil I felt pretty calm up until the point where I put my harness on ready for the challenge and then it made it all real!
"I was nervous going over the top of the bridge but as soon as I faced the wall, I started to enjoy it.
"My feet were slightly wobbly as soon as they touched the floor but it was a fantastic experience!
"There is still time to donate to these wonderful causes on my JustGiving page and anything you can do, no matter how small is much appreciated.
"Thank you to everyone who has kindly donated to my campaign so far."