New £80,000 Adbolton Lane Playground opens in Lady Bay
Last updated: 26/7/2023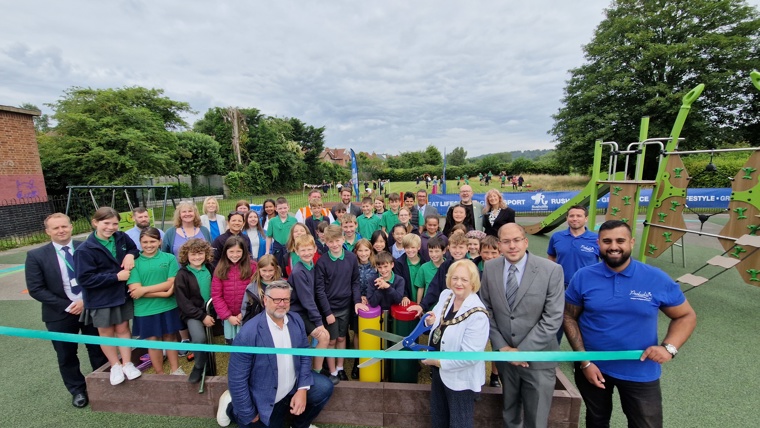 A newly refurbished £80,000 play area at Adbolton Lane in Lady Bay, West Bridgford is now open for children and visitors to enjoy. 
Previous equipment has now been replaced with a bespoke play area with 11 new items whilst some existing features have been refurbished, retaining the accompanying grass play area for informal sport.
Children can have fun on the new wheelchair accessible see-saw, tortoise springer, hammock swing, bongos, creepy crawly panels, flower tubes, raised stage area and roundabout features, delivered by Rushcliffe Borough Council (RBC).
The successful tender for the project was awarded to Bradmore based playground equipment supplier Proludic Ltd who have designed the park's updated features.
A ribbon cutting event with Mayor of Rushcliffe Cllr Debbie Mason, RBC's Cabinet Portfolio Holder for Transformation, Leisure and Wellbeing Cllr Jonathan Wheeler, Proludic Ltd Managing Director Rob Baker and local school children from Lady Bay Primary School marked the official opening yesterday (Thursday July 20).  
Cllr Wheeler said: "We're proud to invest in community facilities which are vital to our residents and visitors.
"The play area looks fantastic and it was great to see local children smiling and enjoying all the new additions to the playground.
"We have placed an emphasis on keeping features where possible in line with our sustainability and carbon neutral plans which will allow us to extend the life of perfectly good equipment whilst making investments go further.
"We always strive to deliver high levels of inclusivity at all our sites and this is at the heart of our design processes with a focus on motor impairments and sensory stimulus, social play and interactions."