'No Mow' summer pollinator sites return across Rushcliffe to see local wildlife thrive
Last updated: 12/5/2023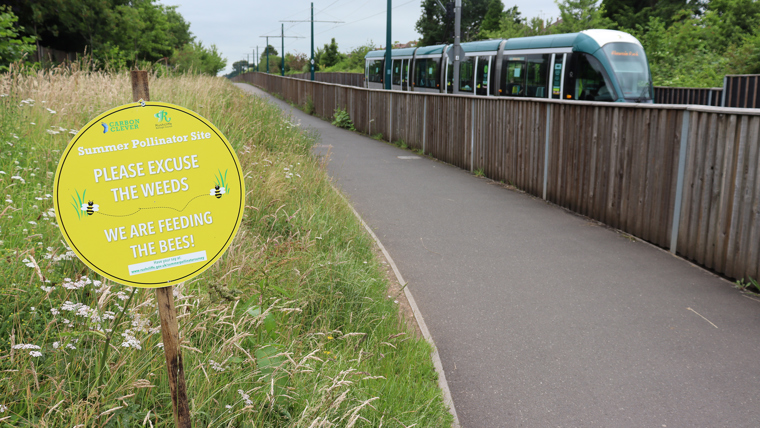 Rushcliffe Borough Council is again installing a number of 'No Mow' areas across the Borough to act as summer pollinator sites and encourage wildlife and habitats to thrive even further.
It follows on from the success of the scheme over the last two years and compliments the national 'No Mow' in May campaign. It's now expanded to over 30 sites across the Borough from May to September this year, covering over three hectares.
The Council's Streetwise team are now not mowing selected areas across Rushcliffe to help create natural corridors to support and enhance local wildlife. 
This sustainable management of the open spaces helps to not only mitigate the impact of climate change but supports the Council's Carbon Clever initiative and its commitment to become carbon neutral by 2030.
The selected areas in the Borough are as follows:
West Bridgford
Abbey Circus
Buckfast Way
Stamford Road
The Hook, Lady Bay
Adbolton Lane Playground, Lady Bay
Graystones Close, Gamston
Rannerdale Close to Mellbreak Close, Gamston
Deepdale Close to Easedale Close, Gamston
Melton Gardens, Edwalton
Alford Road playing field
Green Line south of Boundary Road
Miss Machins Field
Graythorn Drive playing field
Dorset Gardens and Blamford Gardens, Compton Acres
Cranford Gardens, Compton Acres
Killerton Park Drive, Compton Acres
Rugby Road and Rushcliffe Arena
Beaulieu Gardens, Broadstone Balancing Pond, Compton Acres
Tram Line, Wilford Lane to Acorn Bank
Lyme Park Open Space, Compton Acres
Knights Close, Compton Acres
Field of Hope, Off Cropstone Close
Gresham Playing Field
Bridgefield, West Bridgford Park
Villages
Newbold Way, Kinoulton
Hawthorn Close, Keyworth
Mill Hill, Bingham
Green Walk, Whatton
Gotham Road, East Leake
Rectory Gardens, Sutton Bonington


Visit our Summer Pollinator Scheme webpage for more information.
The authority's Deputy Chief Executive and Director Neighbourhoods Dave Banks said: "We're very pleased to relaunch this wonderful project with even more 'No Mow' areas set out across the Borough to further protect nature and enhance biodiversity.
"We also have a large number of pre-existing wildflower meadows to ensure that even more wildlife and habitats can thrive.
"We're keen to protect our environment in line with our priorities and our ever expanding Carbon Clever initiative which is driving forward our green agenda."
The newly managed sites with the 'No Mow' areas often have paths cut through them or adjacent cut areas to provide space for people to sit or children to play.
This creates a more varied greenscape, providing a wider range of recreational and social opportunities as well as benefitting more species, and make a more interesting natural environment.
It's with the aim for residents to see more grass swaying in the breeze and hear the buzz of insects feeding on wildflowers.
If weeds become an issue at the sites alternative methods of removal will be considered that will not affect habitats.
Residents can also get involved if they have their own summer pollinator site on land not managed by the Council. For advice on re-wilding lawns, visit Wild About Gardens.