FarmEco receives UKSPF funding to enhance rural volunteering project
Last updated: 8/8/2023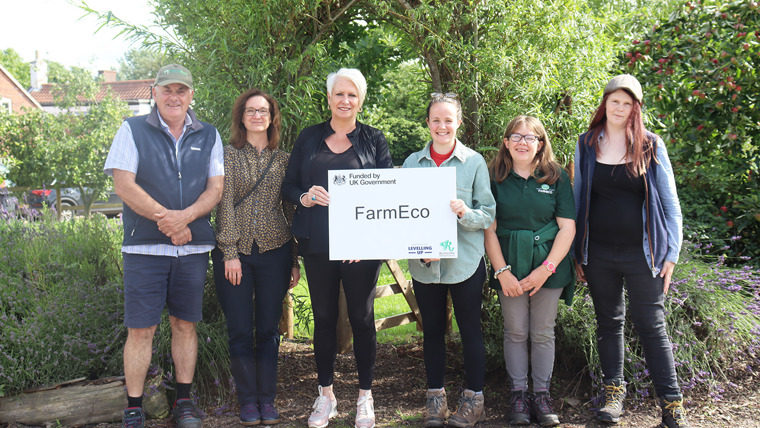 A community farm in Screveton has received UK Shared Prosperity Funding (UKSPF) to support their project which will grow sustainable local food and reduce isolation through volunteering and enhance measures to reduce the cost of living.
The boost to FarmEco will see farm-grown food sold and donated to local food banks matched with valuable visits for groups who might not otherwise get to experience farming and rural life as well as volunteer sessions and investment in the site's equipment.
The community farm will run over 50 sessions in the next eight months creating opportunities for 60 volunteers and 200 participants, growing and selling the farm-grown produce.
This group is one of the 15 projects that have received grants between £5,000 and £40,000 from Rushcliffe Borough Council as part of its £400,000 allocation to grants from UKSPF and Rural England Prosperity Funding (REPF), part of UK Government's Levelling Up agenda, providing funding for local investment.
Rushcliffe Borough Council Deputy Leader Cllr Abby Brennan said: "We are very pleased to support FarmEco's project through UKSPF. The team will deliver further fantastic volunteering sessions which will look at growing organic food, selling it to the local community and providing it to local food banks.
"The project will help people develop skills and reduce social isolation and supports the objectives of the fund that aims to provide quality volunteering sessions for local people.
"It's great too because this is a low food miles project, the produce will be consumed only a few miles away and meets the Fund's objectives to enhance communities and places."
Emma Shires, Farming Project Lead from FarmEco added: "We're really grateful for the UKSPF funding that will allow us to purchase some capital equipment enabling us to process wheat organically and sell to a local mill and bakeries around Nottinghamshire.
"The funding will also allow further people in the community to get involved in the project where we can show people how we grow local produce, practise agroforestry and help harvest apple trees with the majority of apples being donated to local food banks.
"It will enable us to do more outreach and community focused work and bring socially isolated groups to the farm and experience this amazing place."