Rushcliffe Country Park named best budget and family-friendly picnic spot in the country!
Last updated: 5/7/2023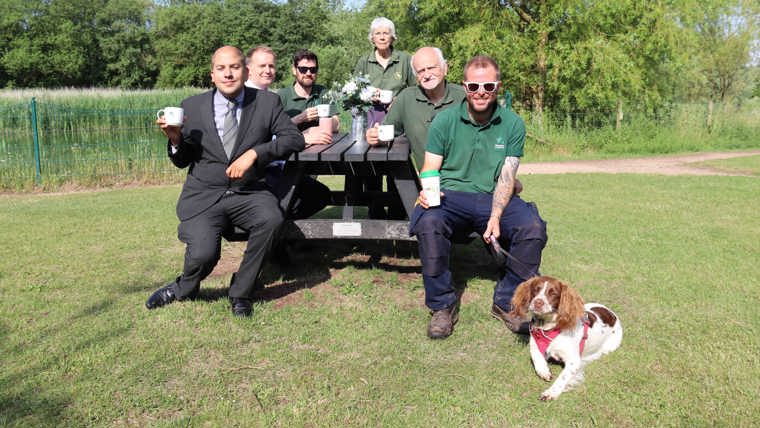 Rushcliffe Country Park has received national recognition as best budget and family-friendly picnic spot in England!
Across the nation, parks were ranked on multiple factors such as budget, child-friendliness and accessibility, as well as transport links, onsite parking and toilet facilities by leading meat-free brand, Quorn.
Discussing the Park, the study said: "Perfect for those looking for a burst of nature and remoteness, you can meander through the eight kilometres of pathways when searching for that hidden picnic spot away from the crowds.
"Bursting with wild meadows, grassland and woodland, keep your eyes peeled for birds, bees and natural beauty everywhere you look."
In recognition of the award, Rushcliffe Borough Council's Cabinet Portfolio Holder for Transformation, Leisure and Wellbeing Cllr Jonathan Wheeler visited the park to meet with with representatives of the Friends of Rushcliffe Country Park to celebrate the award.
He said: "I'm absolutely delighted for everyone, especially the Friends of Rushcliffe Country Park and all our residents and officers who put so much work in.
"To be recognised nationally for how fantastic Rushcliffe Country Park is as part of International Picnic Week, is absolutely amazing and a real feather in the cap for Rushcliffe.
"There are so many reasons that the park's received this award, such as full day parking for £1, beautiful picnic spots with no entry fee, a great array of food and drink options and the amount of activities we have will keep you going all day long."
Rushcliffe Country Park Manager Alastair Glenn added: "We welcome this fantastic news that the Country Park has been recognised as one of the best parks in the country for picnics and value for money!
"It's a very family-friendly area with something for everyone, including a great play area, skatepark, sensory trail, visitor centre, outdoor education centre and a popular café.
"There are plenty of seats and picnic benches around the park for everyone to enjoy a picnic or food from Coffee and Cake by the Lake whilst enjoying the scenic views, nature and wildlife.
"We're continuing to see significant investments at the Country Park with the recent opening of our outdoor shelter and path repair works are underway to further improve the visitor experience.
"This follows a park user consultation last year and we are acting on feedback to make the park even better."