Cabinet confirms Rushcliffe golden anniversary celebrations and events!
Last updated: 11/10/2023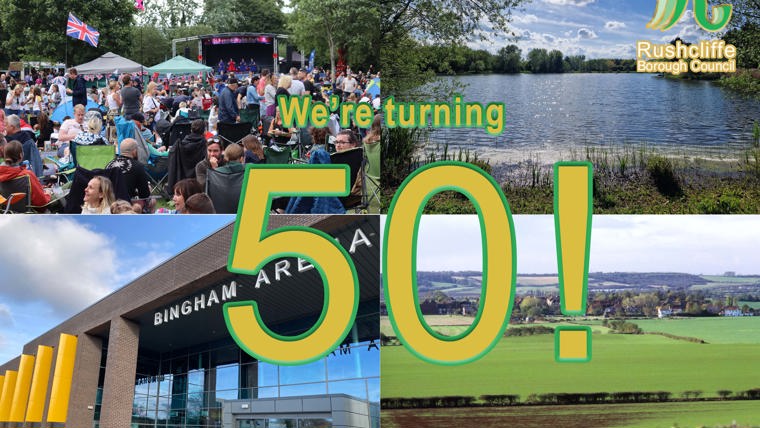 Rushcliffe Borough Council will celebrate its 50-year anniversary throughout 2024 at its major events and focus on milestones and individuals who have made a real difference to Rushcliffe communities.
The Borough's existing events programme for 2024 will contain a Golden 50th Anniversary theme at Proms in the Park, Lark in the Park, the Taste of Rushcliffe Food Festival, the Celebrating Rushcliffe Awards and next year's Christmas lights switch on.
A Rushcliffe Arena atrium-based display at the Council's Civic headquarters will also provide a historical timeline of the key events since 1974 aided by archive film footage and ephemera to make an interactive experience charting the history of the Borough.
The Local Government Act of 1972 came into force in April 1974 that saw creation of the authority that is now approaching its half-century and its Cabinet discussed the proposals for the celebrations at its meeting yesterday (Tuesday).
Rushcliffe Borough Council's Deputy Leader Cllr Abby Brennan said: "The 50th Anniversary of the formation of the Borough provides an ideal opportunity to celebrate at our events and mark the contributions of so many to Rushcliffe life.
"The Cabinet meeting discussed the focus on our Council's significance in local, regional and national government and how celebratory golden themed reflections and displays could further celebrate the people and places who have had such positive impacts on the place we call home.
"Look out for more ways you can get involved when attending our events, social media photo campaigns and appeals for film footage you may have that could help us further chart the history of our wonderful Borough since 1974.
"If you have further ideas how you think the Borough can celebrate email media@rushcliffe.gov.uk and we will be back in touch."
The reorganisation of local government in the 1970s saw Nottinghamshire adopt a two-tier local government structure, with its current County Council and the eight district councils.
The District of Rushcliffe encompassed two former districts, Bingham Rural District and West Bridgford Urban District and part of a third district namely Basford Rural District.
The new district was named after the ancient Rushcliffe Wapentake, which had covered part of the area.
Rushcliffe means 'cliff where brushwood grows' in old English and the district was granted Borough status from its creation, allowing the Chair of the Council to assume the title of Mayor.