Ruddington allotment project receives further vital Reach Rushcliffe funding
Last updated: 17/8/2023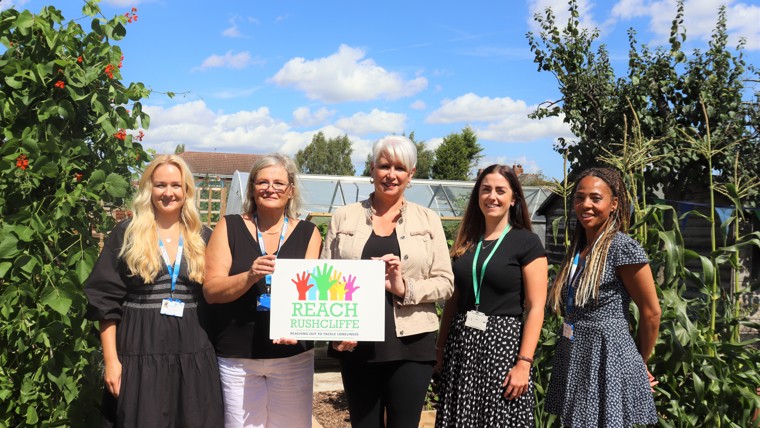 A group that runs an allotment to support Rushcliffe residents' health and mental wellbeing has received further funding to help re-develop their gardening space and assist even more people to benefit from their ongoing project.
Ruddington Paradise Allotments, co-ordinated by Rushcliffe Social Prescribing team have now received grants from Rushcliffe Borough Council's Reach Rushcliffe fund.
Funding this year has enabled the group to purchase and install new raised beds in an unused part of the plot facilitating volunteers to easily plant and grow different vegetables.
A fruit cage was also bought to protect fruit bushes which the group will need to purchase this autumn ready for growing and harvesting berries next summer.
The funding was additionally used on buying compost, soil, seeds and plants which are now growing and to be more eco-friendly, guttering has been installed on a summer house on the site to be able to harvest rainwater to water the plants.
A Ruddington based landscape gardener has also been employed to help transform the space, including paving pathways to assist accessibility to underrepresented groups such as those with mobility problems.
It builds on the group first receiving support in 2021 with the funds helping to purchase essentials and making the plot accessible.
The plot was originally donated by Ruddington Parish Council and gives those at risk of social isolation or loneliness a quiet space to socialise, learn about gardening and to meet with likeminded residents. It has also helped those with mental health and physical health struggles to work on their wellbeing.
The funding offers additional benefits including increased awareness of Social Prescribing, regularly promoted through Rushcliffe GP Surgeries and news outlets and championed by local Parish Councillors.
It has provided an additional avenue for patients of social prescribing to access the project, leading to excellent attendance over the last 12 months and the group see the work as a long-term project.
The Council's Deputy Leader Cllr Abby Brennan met with members of the Social Prescribing Group to view the colourful and welcoming site.
She said: "The space is so beautiful and has already come such a long way from when we originally supported the group's work two years ago, it's brilliant to be able to revisit and see such great progress and hear it has grown in popularity.
"It is vital we continue to support individuals within our community who may be at risk of social isolation and loneliness and this project offers an ideal response to people seeking a safe and comforting environment.
"We know it's so important to spend time outdoors in the fresh air due to the positive impacts of actions such as gardening on our mental and physical health. Spaces such as the allotment are the perfect place to build a friendly and welcoming environment for anyone who attends.
"We would encourage any organisations also looking to reduce social isolation in their part of Rushcliffe to apply for funding through Reach Rushcliffe."
Rushcliffe Social Prescribing Group spokespersons Sophie Taylor and Laura Steed said "We are pleased to say that our project goes from strength to strength.
"We have volunteers who have been with us from day one and are continually welcoming new members from the borough.
"It is great to see how much our volunteers have grown in confidence and to watch their wellbeing improving with each visit and interaction, we have developed a lovely support network where we are there for one another.
"Other allotment holders at Paradise Allotments are so supportive of the project, their guidance is essential for us to continue to develop our gardening skills, now having the infrastructure allows us to focus on growing in a safe and relaxed environment."