Rushcliffe Oaks crematorium welcomes Maisie the comfort dog!
Last updated: 8/11/2023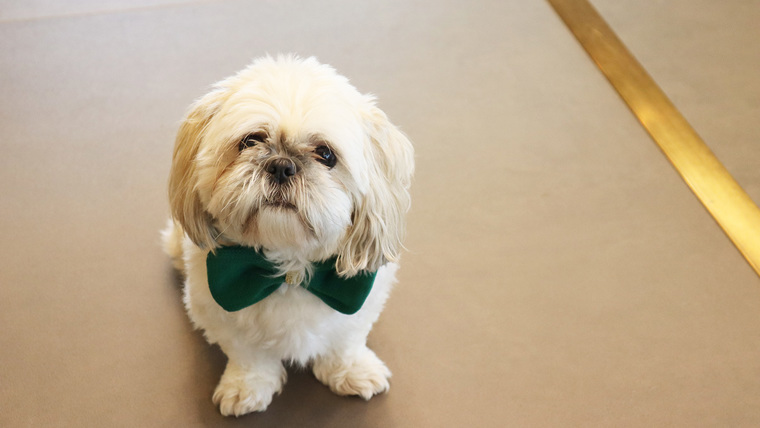 Rushcliffe Oaks crematorium has warmly welcomed its newest member of the team, eight-year-old comfort dog Maisie!
The adorable Shih Tzu, filmed recently at the site, is now a further friendly face at the site to welcome visitors and reassure family members and loved ones at their times of need. 
She is among the first comfort dogs at a crematorium in the country, bringing smiles to faces with her trademark green bow tie to spread a heart-warming feel to people at sensitive times.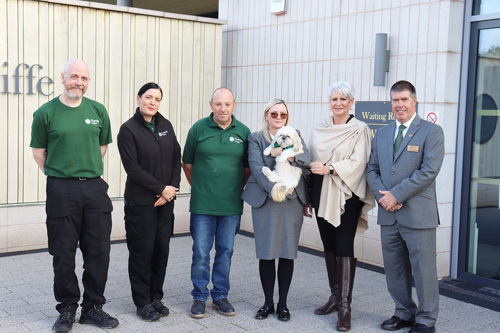 Rushcliffe Borough Council operate the facility and Deputy Leader Cllr Abby Brennan met Maisie, owned by Rushcliffe Oaks Manager Rhonda Churchill, to hear the impact she is having.
She said: "Maisie is a fantastic asset to Rushcliffe Oaks and a very friendly face for everyone. It's delightful she can come out and give people fuss and cuddles when they may need it most.
"She can provide support and a momentary distraction for people at some of their darkest times. Our local funeral directors, celebrants and others love seeing her too at this wonderful facility.
"We're in a semi-rural area here in Rushcliffe and we have a love of dogs that shines through here too."
The crematorium opened in April, a modern contemporary building and community space in Stragglethorpe near Cotgrave, focussing on reflecting a connection back to nature and wildlife.
The Midlands' greenest crematorium to date, it allows a sensitive, peaceful and respectful place for a send-off for loved ones.
Proud owner of Maisie and Rushcliffe Oaks Manager Rhonda added: "The reception Maisie has been given has been nothing but positive and we have started getting requests for her to attend funerals or when people are coming to look around the facility.
"It takes the edge off and gives that little distraction so when you're talking through arrangements or you're about to have a service that is particularly sensitive, it just takes that focus away for a few moments.
"We have a wonderful, dedicated team on-site who are committed to providing a professional and personal service for all visitors, sympathetic to all who have been bereaved and we think Maisie can add some additional comfort for those who want it."
Rushcliffe Oaks grounds include a reflection garden which can be viewed from inside the ceremony hall, a formal memorial garden featuring a memory tree and the Quercus woodland and wildflower meadow, creating a sustainable home for wildlife.
The attractively landscaped grounds and tranquil memorial garden provide a communal space for quiet reflection and remembrance of loved ones.
It offers a wide range of memorial options which have been conscientiously sourced, mainly from local suppliers and using natural materials. There is also a digital book of remembrance where you can write a free message of condolence.
The crematorium is operated and managed by the Council, with service times between the hours of 9.30am to 4.30pm, Monday to Friday.
Further information about the new facility is available at www.rushcliffeoaks.co.uk. All the latest information is also available by emailing info@rushcliffeoaks.co.uk or on the dedicated Facebook page - simply search Rushcliffe Oaks.