Cllr Debbie Mason is the newly elected Rushcliffe Mayor
Last updated: 25/5/2023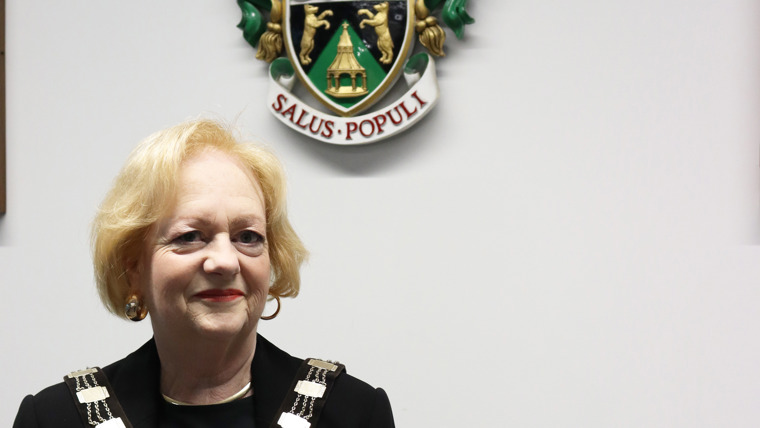 The new Mayor of Rushcliffe, Cllr Debbie Mason, has said she is "honoured and proud" to have been elected to office for the forthcoming 12 months.
In a ceremony in the Council Chamber at Rushcliffe Arena on Thursday (May 25), she accepted the position for 2023/24 from incumbent Cllr Tina Combellack as part of the authority's Annual Council meeting.
Cllr Mason has served as a Borough Councillor since 1999 and is a former Deputy Leader of the Council.
As the 'first citizen' of the Borough the Mayor will attend many official engagements during her term of office this year.
The Conservative councillor has nominated Riding for the Disabled Association (RDA) as her chosen charity for the year.
Founded in 1969, RDA is the only national charity that focusses on the therapeutic and health benefits of bringing horses and people together.
It helps children and adults with physical and intellectual disabilities who are able to participate in activities like riding and carriage driving for fun, therapy, fitness, skills development and opportunities for achievement.
In Rushcliffe there are four groups of RDA, Belvoir Vale, Ruddington, South Notts and Wenlo.
The Member Groups are individual registered charities and self-funding. They can only carry out their work through the generosity of donors and the support of fundraising events. 
Madam Mayor said: "It is an honour to be Mayor of Rushcliffe and represent thousands of people and I hope to meet many more residents and groups who are at the heartbeat of our communities.
"I have a real passion for horses and all animals so my chosen charity is dear to my heart and a very worthwhile charity that helps all ages and all abilities.

"Please support them in the next 12 months when I'm Mayor and beyond."
Cllr Andy Brown was elected as Deputy Mayor for the next 12 months and expressed his honour of being entrusted with the role.