Rushcliffe Oaks crematorium first public open day takes place on July 22
Last updated: 15/7/2023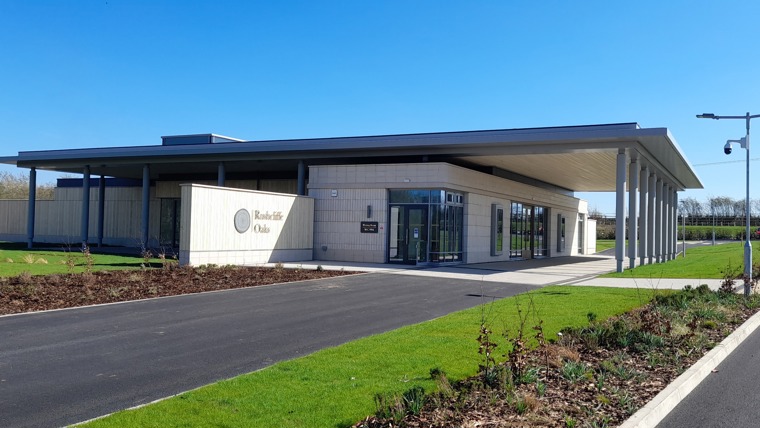 Rushcliffe Oaks crematorium is hosting its first open day on Saturday July 22 from 10am to 2pm giving visitors an opportunity to meet the team and look around the new facility, which focuses on providing a calm, welcoming space for families to remember their loved ones.
With a focus on nature and wildlife, visitors are invited to Stragglethorpe near Cotgrave to explore the grounds which provide a mix of formal and informal places to wander and reflect, including a memorial garden with a memory tree and a young woodland and wildflower meadow, which over time will create a sustainable home for wildlife.
The Ceremony Hall offers a light and tranquil space that has seating for up to 120 people and additional standing space with views of the attractively landscaped grounds.
It's also a chance to learn more about its green credentials as one of the first crematoriums in the country to use all electric technologies, reducing CO2 emissions by 85% over traditional gas equivalents.
Light refreshments will be served on the day as well as a limited number of gift bags for visitors. No booking is required and people can just drop in.
Rushcliffe Oaks Manager Rhonda Churchill said: "We're encouraging people to come along to our open day to meet the team and discover more about our services and facilities.
"Our whole focus has been to provide a modern and peaceful setting for our customers with a connection to nature that is environmentally conscious.
"Rushcliffe Oaks is operationally carbon neutral and you can find out more about the use of innovative technologies and renewable energy sources we use, making it Nottinghamshire's greenest crematorium.
"Take a walk around our grounds and tranquil memorial garden which provide a communal space for quiet reflection and remembrance of loved ones.
"You can also learn more about our wide range of memorial options which have been conscientiously sourced, mainly from local suppliers and using natural materials.
"Come and have a chat with our wonderful, dedicated team who are committed to providing a professional and personal service for all visitors, sympathetic to all who have been bereaved.
"We've received very positive feedback from families of many faiths about how we've looked after their loved ones, and we look forward to welcoming you and answering any questions you may have."
The crematorium is operated and managed by Rushcliffe Borough Council, with service times between the hours of 9.30am to 4.30pm, Monday to Friday.
For further information about the new facility, visit the Rushcliffe Oaks website. All the latest information is also available by emailing info@rushcliffeoaks.co.uk or on the dedicated Facebook page - simply search Rushcliffe Oaks.