New café shelter opens for visitors at Rushcliffe Country Park
Last updated: 3/6/2023
A new natural wood shelter is now open at Rushcliffe Country Park providing park visitors with a sociable space and additional seating for all weathers.
Park goers can take shelter whilst enjoying refreshments from the adjacent Coffee and Cake by the Lake café, which opened last Autumn.
The shelter features hard flooring with wheelchair friendly access paths and wheelchair accessible benches all within easy reach of the car park and toilets.
The structure is also being used as an outdoor education centre which is essential in teaching children the importance wildlife has to play in protecting our planet against climate change, aided by fun interactive displays courtesy of The Friends of Rushcliffe Country Park group.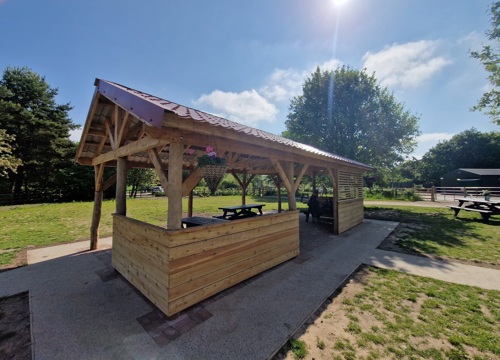 It's the latest investment in a series of improvements Rushcliffe Borough Council is implementing following user surveys, consultations and feedback from residents.

Recent significant investments at the park include a new bookable meeting room, café, upgraded toilets, improved play area, electric vehicle charging points and pathway restoration work.
This project has been funded by UK Shared Prosperity Fund (UKSPF), part of UK Government's Levelling Up agenda, providing funding for local investment.
Rushcliffe Borough Council Deputy Leader and Portfolio Holder for Business and Growth Cllr Abby Brennan said: " The new cafe shelter is a great addition to the park and provides a wonderful space for people to rest, relax and socialise.
"We have supported a number of projects through our UKSPF allocation, and this new cafe shelter is an excellent example of how we are utilising the funding to enhance our facilities and benefit the local community."
Rushcliffe Borough Council's Cabinet Portfolio Holder for Transformation, Leisure and Wellbeing Cllr Jonathan Wheeler added: "We're delighted to see visitors are enjoying the new outdoor café shelter at the Country Park.
"It's another great investment for the park and the shelter is a fantastic spot for families to take some time out, enjoy refreshments amongst the picturesque setting by the lake.
"This project is part of our commitment to significantly invest in the Country Park, which attracts thousands of visitors locally and further afield, to provide high quality green spaces to promote health, wellbeing and recreational opportunities."
The shelter was constructed by natural wood specialists Green Play Project Ltd.