Nottinghamshire Climate Change Partnership Highly Commended
Last updated: 30/6/2023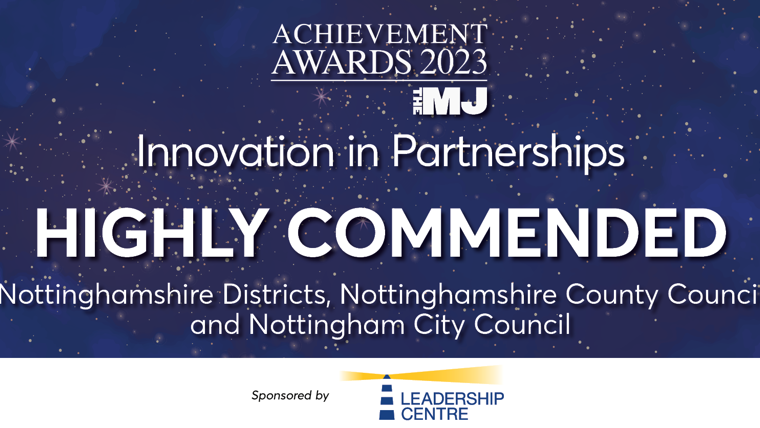 A trailblazing Nottinghamshire partnership has been highly commended in the Municipal Journal (MJ) Achievement Awards for Innovation In Partnerships.
Notts Green Rewards, an online platform helping Nottinghamshire and Nottingham City residents take action to reduce their carbon footprint and to help tackle climate change, was recognised with high commendation for 'Innovation in Partnerships' at the prestigious awards held in London.  The project was shortlisted from 63 entries and made it to the finals, alongside eight other shortlisted entries.
The award judges praised Green Rewards for its outstanding contribution to promoting sustainable living and reducing carbon emissions. They added that the platform had been able to inspire and motivate people to make better choices that positively impact the environment by engaging with the community through gamification and that the project had made the journey towards sustainability fun and engaging.
"We are thrilled to receive this recognition from the MJ Awards," said Rushcliffe Borough Council Chief Executive Katherine Marriott. "This award is a testament to the hard work and dedication of everyone involved in the project. We are proud to have been able to inspire positive behaviour change and help people reduce their carbon footprint. We hope that this recognition will encourage more people to join us in our mission to create a more sustainable future."
The platform has demonstrated that sustainable living is not only necessary but also achievable. The project's success has shown that by working together and harnessing the power of technology, we can make a positive impact on the environment."
In October 2021, seven Nottinghamshire District Councils, Nottinghamshire County Council, Nottingham City Council, the University of Nottingham, Nottingham Trent University and platform creator Jump joined together to create the trailblazing Green Rewards partnership. Nottinghamshire is the first County in the country to see all its local authority and education partners collaborate on a climate change reduction project in this way. 
The ground breaking programme has a clear carbon reduction focus and is utilised by residents across Nottinghamshire and Nottingham city. It allows residents to accumulate points for undertaking sustainable actions (these actions lower their carbon footprint, which in turn helps to tackle climate change) as well as capturing the user's carbon avoidance metrics; helping support the Nottinghamshire Partners commitments to work towards becoming carbon neutral. 
To date, Green Rewards has nearly 7,000 members and together have undertaken 225,000 actions, which has avoided emitting nearly 624 tonnes of carbon. That's the equivalent of taking 139 cars off the road for a year or not driving 1,600,000 miles in an average petrol powered car (the distance is the equivalent of driving round the earth nearly 63 times)!
Nottinghamshire residents in Broxtowe, Bassetlaw, Gedling, Mansfield, Newark and Sherwood, Rushcliffe and Nottingham City can sign up online or download the app in your app store.