New Changing Places disabled toilet available at Gresham Sports Park
Last updated: 30/10/2023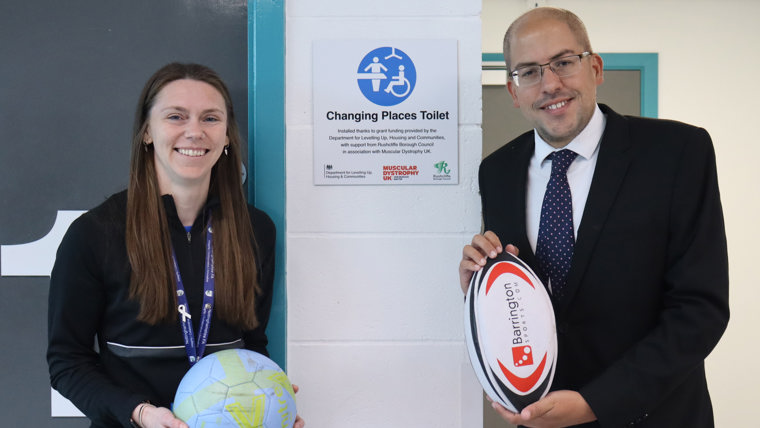 A Changing Places toilet which enables users to with mobility challenges change more easily has been installed at Gresham Sports Park in West Bridgford ensuring even greater access for people to engage with sport at the site.
It features a height adjustable adult changing bench, ceiling track hoist, peninsular toilet with space for two assistants and a privacy screen in the work courtesy of a £50,000 capital grant investment secured from the Department of Levelling Up, Housing and Communities (DLUHC). 
This is the latest successful Rushcliffe Borough Council (RBC) development in making facilities across the Borough more accessible, joining Rushcliffe Country Park in Ruddington and Bingham Arena in offering the specialised toilet, to aid users or carers who may struggle with standard accessible toilets.
The Council is committed to providing facilities that are accessible for all residents, aiding in more people being able to take part in or attend events and activities at its sites across Rushcliffe.
The Sports Park is home to footballers from the East Midlands Pan-Disability League who are among the groups who may benefit from the new facilities.
RBC's Portfolio Holder for Transformation, Leisure and Wellbeing Cllr Jonathan Wheeler said: "This fantastic new Changing Places toilet is the latest facility we have put in place as part of our continued effort to increase accessibility across the Borough.
"Making sure places such as Gresham Sports Park are somewhere that can be utilised and enjoyed by everyone is absolutely essential so athletes, spectators and anyone can experience a safe and comfortable experience when visiting.
"A thanks to DHLUC's investment in the facility which will help countless people enjoy sport to further in the years to come."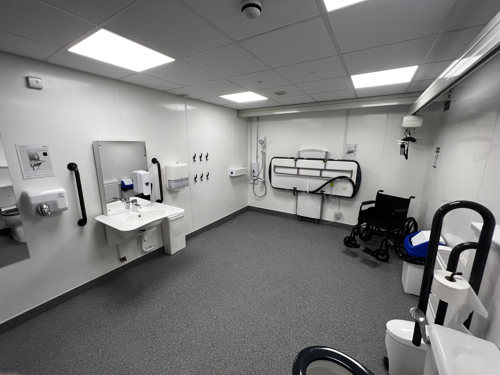 Michelle Marshall from Nottinghamshire FA added: "The new installation of the Changing Places toilet at Gresham Sports Park is a great addition to the existing facilities already available at the venue, ensuring it is accessible for everyone.
"It's been fantastic to be able to work with Rushcliffe Borough Council on developing their sports facilities and this further demonstrates their commitment to ensuring that more people in the Borough can participate in physical activity in a safe and accessible environment.
"With Gresham being the home of the East Midlands Pan-Disability League, as well as other grassroots clubs looking to further develop their playing opportunities and pathways, this will enable hundreds of participants and their families to experience and enjoy being involved in the game without stress and worry."
Further Changing Places provision is planned as part of the authority's Leisure Strategy with the redevelopment of Cotgrave Leisure Centre due to be completed by the end of March 2024.