Football club supporting bereaved dads receives Reach Rushcliffe funding boost
Last updated: 24/8/2023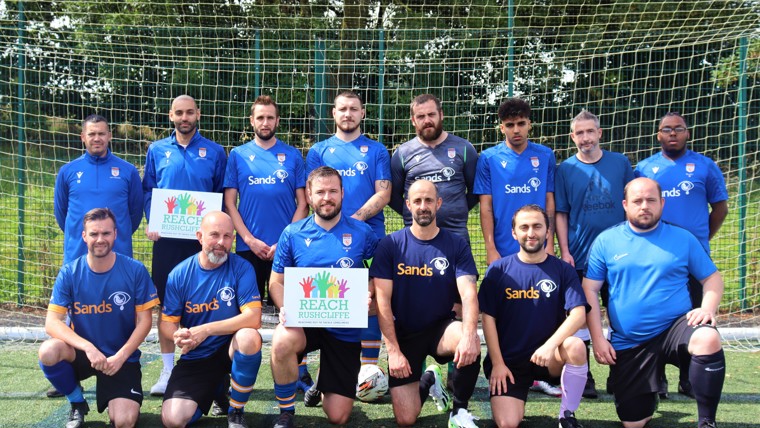 A football club in Rushcliffe set up to support men who have experienced any form of baby loss has received vital funding to help run training sessions as a supportive and safe space for members and improve their mental health and wellbeing.
Sands United Football Club Nottingham has welcomed Rushcliffe Borough Council's Reach Rushcliffe grant that will contribute to pitch hire enabling the club to run regular football training sessions and matches.
It will provide an opportunity for the team to meet face to face and build bonds in a supportive environment in line with the fund's aim to help boost community projects across the Borough that support people's mental and physical health and tackle loneliness and isolation.
The team meets weekly at Rushcliffe Spencer Academy in West Bridgford to train and enjoy the mental health benefits that exercise and teamwork can provide and following on from the sessions, sit and chat together.
Sands United FC Nottingham - Team Manager Raj Chagger said: "We formed in February 2023 to provide a safe space and a mental health support unit for any man impacted by any form of baby loss. Football is the tool used to bring us together, but we are a support unit first and a football team second.
"This is often the first opportunity that any of us have had to talk openly and honestly about our experiences and, because of this team, we can do this with people that understand.
"The funding we have so gratefully received from Rushcliffe Borough Council allows us to continue to run these sessions, to continue offering a safe and judgement free environment where we can be vulnerable and openly talk about our babies whom we love and miss. This is our therapy."
Rushcliffe Borough Council's Cabinet Portfolio Holder for Transformation, Leisure and Wellbeing Cllr Jonathan Wheeler said: "Sands United FC Nottingham is an inspirational group and we're pleased we've supported their project through our Reach Rushcliffe initiative.
"The club is helping to reduce loneliness and isolation for bereaved dads going through extremely difficult times by providing an inclusive and friendly support network.
"The volunteers do a fantastic job running these wonderful sessions which bring people together through football and exercise. This is a welcoming place where any dad can join for bereavement support and to build friendships."
To help raise funds for the club and for local hospitals, Sands United FC Nottingham will be playing a charity fundraiser match against Nottinghamshire Police on Sunday August 27 at 2pm at Keyworth United Community FC, Platt Lane NG12 5NZ.
Anyone is welcome to attend and there will be raffle with prizes to be won on the day. To book a ticket, email sufcnottingham@gmail.com or search for Sands United FC Nottingham on Facebook or Instagram.