Rushcliffe Country Park receives 17th consecutive Green Flag Award!
Last updated: 26/7/2023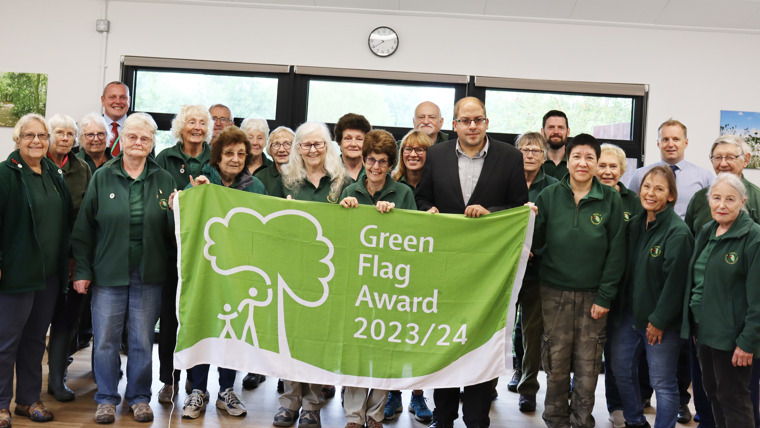 Rushcliffe Country Park has received its 17th consecutive Green Flag Award, acknowledging the green space as one of the country's best parks. 
The popular park has been named again among 2,216 UK other places that have received the award, which sets the benchmark standard for the management of recreational outdoor spaces across the UK and around the world.
Rushcliffe Borough Council's Cabinet Portfolio Holder for Transformation, Leisure and Wellbeing Cllr Jonathan Wheeler joined the Friends of Rushcliffe Country Park volunteer group and Council representatives to raise the flag earlier this week.
Cllr Wheeler said: "Rushcliffe Country Park is among the jewels in the crown of the Borough and I'm thrilled that is has received yet another prestigious Green Flag Award.
"17 years of this award is a fantastic achievement and a testament to the hard work and dedication that takes place here week in and week out.
"Thank you to all our staff and the Friends of Rushcliffe Country Park volunteers who manage and maintain the green space so that everyone can enjoy it.
"They go above and beyond every year to build on its continued success and improve the park and facilities.
"This award builds on our success and earlier this year the park received national recognition as best budget and family-friendly picnic spot in England!
"We've listened to our residents and are continuing to see significant investments with the recent opening of our outdoor shelter and path repair works to further improve the visitor experience.
"Our excellent facilities also include the café Coffee and Cake by the Lake, visitor centre, bookable meeting venue and changing places toilets that we opened last Autumn, in line with our Carbon Clever programme.
"These exciting developments and the Green Flag status will encourage more visitors to our much-loved Country Park."
Friends of Rushcliffe Country Park Chairperson Ann Towle added: "We strive to develop and enhance Rushcliffe Country Park and raising the Green Flag at the park for a 17th year means a lot to us.
"The park has 85 hectares of wildflower meadows, grassland, conservation and landscaped areas and a two hectare lake.
"Conservation work is a priority, and we know visitors love exploring and watching the diversity of wildlife at the park.
"Our door is always open to new volunteers, so if anyone would like to join and help to maintain the green flag status, please get in touch!"
Contact the Friends of Rushcliffe Country Park by email countrypark@rushcliffe.gov.uk, phone 0115 921 5865 or search 'Friends of Rushcliffe Country Park' on Facebook.
The Green Flag Award is a sign to the public that the space boasts the highest possible environmental standards, is beautifully maintained and has excellent visitor facilities.
Parks are a vitally important part of this country's green infrastructure, providing opportunities to improve physical and mental health even in the most built-up urban environments. It is estimated that active visits to parks in England result in £2billion of avoided costs of ill-health every year.
More information about Rushcliffe Country Park and details on how to plan your next visit, or book the meeting room are available on our website.