Businesses can sign up to free accelerator business support programme in Rushcliffe
Last updated: 31/10/2023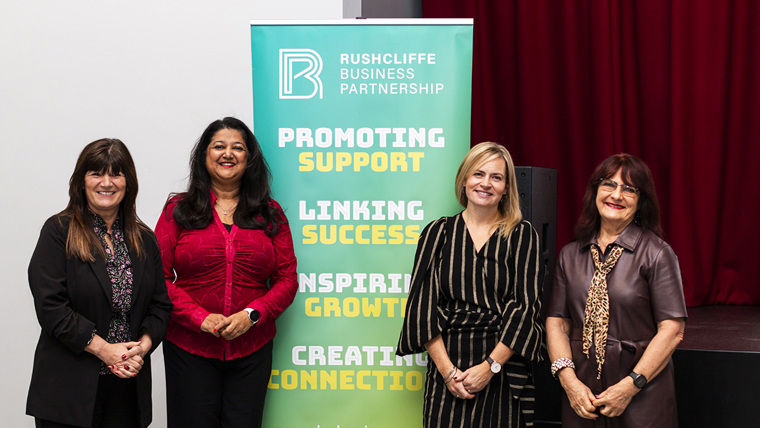 Businesses across the Borough can benefit from a newly launched Rushcliffe Accelerator project providing them with free access to support such as 1-2-1 mentoring, training workshops and grant guidance.
Rushcliffe Accelerator is funded by the UK Government through the UK Shared Prosperity Fund (UKSPF) and East Midlands Chamber.
It signals a new era of local place-based support for businesses in Rushcliffe and will help local businesses at all stages of their development to start, sustain, grow and innovate, as well as invest in Research & Development and take steps to decarbonise.
The Rushcliffe Accelerator business support programme is delivered by East Midlands Chamber and offers:
Training including action planning workshops and webinars in areas such as finance, HR and digital.


Access to finance including support with grant funding applications and growth vouchers for specialised consultancy and training.


Continuation of support from the Rushcliffe Digital High Street Programme – high street businesses can get advice from a business adviser on how to increase footfall, attract new customers and access workshops on topics such as e-commerce, using social media as an online shopfront and improving customer journeys through social content.


A team of locally based Advisers and Specialists, employed by the Chamber, who will offer high-intensity growth implementation support to businesses to create new jobs or exploit technology to improve performance. Diagnostics will be assessed, and a Business Action Plan produced through the Balanced Scorecard strategic management system model.
Rushcliffe Borough Council Deputy Leader and Portfolio Holder for Business and Growth Cllr Abby Brennan said: "We are excited to continue to work with East Midlands Chamber on this new accelerator programme which provides a wide range of support helping businesses to start, sustain, grow and innovate.
"Businesses can sign up by completing the online form on the D2N2 Growth Hub website."
"This programme is one element of the Council's plans for UKSPF projects, and we will continue to work with businesses to understand their needs to help develop locally tailored solutions."
Over 50 businesses gathered at Bingham Arena last Wednesday (October 15) to mark the launch of the Accelerator programme.
Hosted by the Rushcliffe Business Partnership, the event welcomed two local businesses to deliver talks on their respective expertise.

Marketing Consultant, and lecturer at Nottingham Trent University Di Tunney delivered an interactive workshop on the benefits of using the ever-burgeoning world of AI and how it can be used to develop marketing content for businesses.
Delegates were invited to complete their own mini task using AI platforms and were given a demonstration of how AI can save time and boost creativity in marketing.
Businesses also heard from Partner at Rothera Bray Solicitors Natalie Abbott, who delivered a talk on the importance of inclusion at every stage of the recruitment process.
Natalie guided businesses through the process from writing a job advert all the way through to the job offer itself. Getting recruitment right is crucial to businesses of any size, so this was invaluable insight for the businesses in attendance.
Deputy Chief Executive of East Midlands Chamber Diane Beresford also attended the event to launch the programme.
She said: "Over the last year, the Chamber has had the opportunity to partner with Rushcliffe Borough Council on various projects including the Digital High Street Programme.
"We're now looking forward to reaching a much wider range of sectors using Rushcliffe Accelerator to give businesses the skills and resources they need to build in the most robust way possible for the future".
Home Instead Operations Manager Harriet Renolds was one of the business attendees.
She said: "Home Instead love to help the local community and be involved with people in the community.
"Events like this help us to meet new people who can support us to support our clients and continue to keep our client promise."
Photo credit: Gemma Wilks (Stand Out Get Noticed)
Caption from left to right: Deputy Chief Executive of East Midlands Chamber Diane Beresford, Deputy Chair of Rushcliffe Business Partnership Shamshad Walker, Partner at Rothera Bray Solicitors Natalie Abbott and Owner of Di Tunney Marketing Di Tunney