Green Rewards
Get great discounts and prizes when you combat climate change with Green Rewards!
Join Green Rewards today and earn great discounts, vouchers and prizes at local businesses and green projects for playing your part to combat climate change and achieve net zero!
That's the message from all nine local Councils in Nottinghamshire who we have joined forces with local universities and creator Jump for a trailblazing partnership!
It provides a new Green Rewards app and web platform which means Notts residents can accumulate points and earn the prizes for many activities they do every day at home or out and about that help lower their carbon footprint and part of our aim to be Carbon Clever as a council.
Sign up for free now or download the Green Rewards app on iOS and Android. Search for 'Notts; Green Rewards' in your device's app store.
In similar fashion to rewards points at retailers, all residents need to do is log their day to day activities that highlight how they are decreasing the amount of carbon they create, such as:
Walking to work or school instead of taking the car
Cycling or using public transport
Putting your recycling bin out with all the correct recyclables
Switching off a light or switch at home
Taking a shower of four minutes or less and many, many more!
See a full list of ways to earn points.
Once registered, to help you get started, you'll be automatically opted in to the Report your Recycling when you register, earning 125 points each week.
Here in Rushcliffe accumulate 10,000 points for a 10% or other voucher off at the below participating outlets across the Borough.
You will be notified by the Council when you become eligible for a discount or voucher and then choose which business you wish to redeem the discount at.
There's also £20 worth of vouchers for the top two residents in each local authority area in Notts, including in Rushcliffe, who earn the most points each month to claim at local businesses, donate to worthwhile causes or projects and in some districts and Boroughs there's prizes too for the top points earning wards.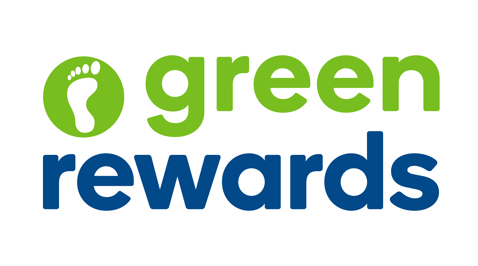 The first collaborative sustainability engagement programme of its kind in the UK, its features the simple carbon-reduction activities that residents can complete.
It means Nottinghamshire is the first County in the country to see all its major local authority and education partners collaborate on a climate change reduction project in this way ahead of next month's COP 26, providing an easy to use platform and incentives for all.
The partnership will support each council's target of reaching net zero carbon emissions before 2040, with some committing to an earlier date of 2030.
Questions on the app or the platform?
Contact the Green Rewards team by emailing customer.service@greenrewards.co.uk or by calling their contact centre on 0207 326 5055 (Mon-Fri, 9am-5.30pm).
To feedback views on the platform to Rushcliffe Borough Council, email media@rushcliffe.gov.uk
---
Participating Business Outlets
The following is a list of participating businesses for Green Rewards points.
Once you reach 10,000 points you will be notified to select one of the following businesses to redeem the voucher.
Discounts are eligible for one transaction and are 10 per cent unless otherwise stated.
You can expect to be contacted within one month of reaching each 10,000 points earned to redeem a voucher.
Business owner who wishes to join the project? Email econdev@rushcliffe.gov.uk
Bingham:
Rose and May - discount is 10% off food and drink on daytime menu
Butlers Coffee House
Claire Grace Interiors
Sarah Hardy Holistic Therapies
The Style Room
Dizzyware
East Leake:
The Greengrocer - discount is 10% off when you spend £20
Captcha Photography
Formula 4 Fitness
Pyjama Party
East Leake Hardware
Googie's Flowers
Love and Piste - discount is free tea or coffee with any cake purchased
Keyworth:
Alice's Tea Shop - discount is 10% off a hot drink when using a reusable mug 
Flowers on Main Street
Radcliffe on Trent:
The Atrium Bar and Kitchen - discount is a free hot drink
Lesley Cree Opticians - discount is free glasses lens cleaning spray and free refills to an existing bottle
Ruddington:
Ruddington Fish Bar
Phoenix Flowers
Chic Hair Ruddington
Ruby Rae boutique
Zing Interiors
Pet Pantry
The Bottle Top
West Bridgford:
Daisy Daisy
Soothe
Tiffin Tea House - discount is 10% off food which must include breakfast or lunch for up to 4 people 
Beyond the looking glass
The Refinery
The Parlour - discount is 20% off first round of drinks
The Tall Frog
Forde's Coffee
Central Shoe Repairs
Elizabeth McKenna Flowers
Brumpton's Butcher
CP Interiors
Individuals Hair - Discount is 20%
Instep Podiatry
The Good Weigh, Lady Bay
Slades Florist
Zips and Hems
Henry Brewer Gallery
Flintham:
---
Documents to download