Rushcliffe tops new fly-tipping regional league table on approach to fly-tipping
Last updated: 25/8/2023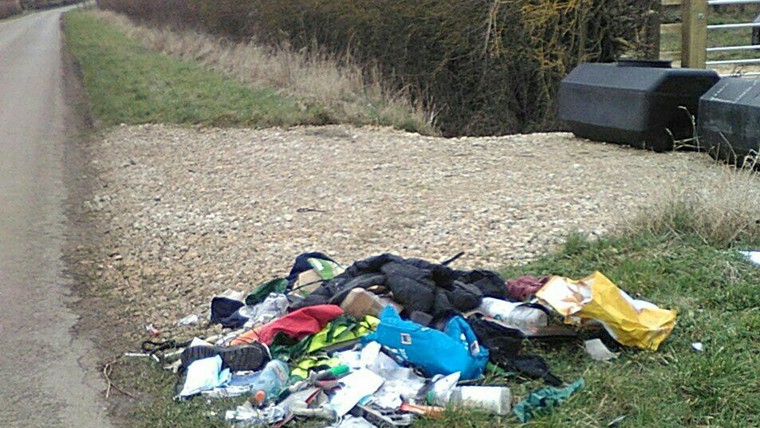 New nationwide league tables have seen Rushcliffe Borough Council top a regional list of local authorities taking the toughest action on fly-tipping.
The authority issued an average of 0.74 Fixed Penalty Notices (FPNs) per incident, for a total of 755 FPNs in 2021/22.
The Department for Environment, Food and Rural Affairs (Defra) ratio was calculated for each local authority (LA) as the total number of FPNs issued divided by the total number of fly-tipping incidents and the statistics boost transparency, helping people across the country to understand how their LA deals with fly-tipping. They also encourage councils to compare results and share best practice with one another to help crack down on fly-tippers.
Rushcliffe Borough Council's Cabinet Portfolio Holder for Environment and Safety Cllr Rob Inglis said: "This is testament to us taking tough action on fly-tippers and our priority with the environment to ensure those who choose to blight our communities are dealt with robustly wherever possible.
"Our partnership with Waste Investigations Support & Enforcement (WISE) in recent years has been effective and the figures speak for themselves with the most fixed penalty notices issued per fly-tipping incident in the East Midlands.
"Remember to always check who you employ to dispose of your waste from your home or business or you could also face a potential penalty if it is linked with a fly-tipping case.
"You can check whether a waste carrier is registered online at Environment Agency website or call 03708 506 506."
Environment Minister Rebecca Pow added: "Fly-tipping is a cynical crime which hits communities and the environment hard. We have given councils new powers to tackle these offences and funding through bigger penalties for criminals and grants to invest in fighting fly-tipping.
"But it's crucial that everyone can see what is working across the country – and these league tables will help local authorities to learn from the best examples."
The figures, which cover the reporting period between April 2021 and March 2022, nationally show:
Councils carried out 507,000 enforcement actions in response to fly-tipping incidents. These actions could include investigations, warning letters, statutory notices, fixed penalty notices (FPNs), duty of care inspection, stop and search, vehicles seized, formal cautions, prosecutions and injunctions.
Councils issued a total of 91,000 FPNs specifically for fly-tipping, for breaching the household waste duty of care, for littering issued in conjunction with fly-tipping and for other actions in relation to fly-tipping.
There were 43 LAs which did not issue any FPNs.
The government is helping equip councils with everything they need to fight against fly-tippers. In July, higher on-the-spot fines were announced for litter, graffiti and fly-tipping to deter people from harming our public spaces in the first place and ensure that those who continue to offend face tougher consequences.
A consultation on ring-fencing the proceeds raised from these fines to go back into local waste crime enforcement and cleaning up was launched in June. This would see the money paid by fly-tippers go directly back into repairing the damage they caused or into enforcement efforts such as identifying hotspots, investing in CCTV and paying for more wardens on patrol to prevent similar incidents from happening again.
This all comes alongside comes alongside Defra's wider work to tackle fly-tippers and take the fight to offenders.
Defra has also announced that fees for disposing of household DIY waste at recycling centres will be abolished – helping people to deal with their waste responsibly and removing a financial burden that gets in the way of people dealing with their waste responsibly.
The following table shows details from the five local authorities in the East Midlands with the highest ratio of FPN actions.
| | | | | |
| --- | --- | --- | --- | --- |
|  LA Name |  Total Incidents |  Total Actions | Total Fixed Penalty Notice Actions | FPNs per incident |
| Rushcliffe | 1024 | 1159 | 755 | 0.7373 |
| Boston | 3529 | 878 | 786 | 0.2227 |
| Nottingham | 13608 | 8410 | 2247 | 0.1651 |
| South Derbyshire | 603 | 722 | 69 | 0.1144 |
| Ashfield | 812 | 1380 | 90 | 0.1108 |